As our country fights the COVID-19 pandemic, a lot of attention is shifting toward a tool utilized only in small pockets before: germicidal ultraviolet.
Germicidal UV can be very effective and beneficial when it's used correctly. UV-C can kill up to 99.9% of pathogens. But since this is a relatively new solution for many businesses like hotels, restaurants, and retail stores, we're going to explain a few ways that germicidal UV is used.
If you need to get caught up on UV and how it inactivates viruses and bacteria, click here.
Here are three different uses for germicidal UV in commercial buildings:
1. Germicidal UV fixture installation
Germicidal UV fixtures can become part of your overall lighting plan. Whether you want to replace some light fixtures, redesign your current layout, or just add a new layer of protection, germicidal UV fixtures can work for you.
Once installed, germicidal UV fixtures cause little disruption. They usually operate on a switch or a timer. The only time you need to adjust them is for maintenance or if you decide to change a setting.
UV fixtures are not only limited to healthcare applications. They can be beneficial at schools, banks, restaurants, grocery stores, and any business that typically sees a lot of traffic on a daily basis.
There are several different types of UV light fixtures.
Germicidal UV fixtures
PURO™ Helo products can be mounted to the wall or the ceiling. The Helo F2 is three times more powerful than the Helo F1.
PURO™ products use broad-spectrum UV, including germicidal UV, that can penetrate skin and damage eyes. For this reason, the fixtures should only run when no one is in the room. The Helo F1 and Helo F2 both shut off automatically if motion is detected.
Click here to see a complete comparison of PURO™ products.
Germicidal UV fixtures that run constantly
You might be wondering how a fixture can run constantly if it contains germicidal UV.
Manufacturers have developed new technologies to use the power of germicidal UV while making safety a priority.
Healthé Cleanse® UV products use two different techniques.
The Healthé Cleanse® troffer uses broad-spectrum UV to constantly disinfect the air. That UV light is contained within the fixture, making it safe for people to be around. The troffer also produces illumination, so it can replace other ceiling fixtures.
The Healthé Cleanse® downlight uses far-UVC light. Far-UVC light utilizes a narrow wavelength of UV light, typically under 222 nanometers. Recent research shows this wavelength does not penetrate the skin like other wavelengths of UV-C light, but still has the power to inactivate viruses.
What's the difference between germicidal UV and broad-spectrum UV? We explain here.
Disinfectant UV fixtures
Another fixture option is to use near-UV light. It falls just outside of the UV spectrum, but still contains disinfectant qualities against bacteria (but not viruses like COVID-19).
Kenall uses Indigo-Clean™ technology to kill bacteria with 405 nanometer light. That wavelength is technically visible light, so it is safe for humans, but can still fight secondary bacterial infections.
The product below was developed to fight bacteria in temporary medical tents.
2. Germicidal UV mobile units
Germicidal UV mobile units offer more flexibility. Instead of installing a fixture in one location, you're able to move the unit from one space to another.
Mobile UV units are already used in a wide range of applications, from hotels to disinfecting personal protective equipment (PPE) in hospitals that are short on supplies.
PURO™ mobile UV units use broad-spectrum (a combination of UV-A, UV-B, and UV-C), so the operator should leave the room or area while they are in operation.
American Ultraviolet® mobile UV units operate with germicidal UV, so the operator will have to leave the room when it is turned on.


If you want to know more about the pros, cons, and applications for mobile UV units, we dive into more detail here.
3. Germicidal UV fixtures for HVAC systems
You can also clean the air before it enters a space with germicidal UV products.
Adding UV-C products to industrial HVAC systems will help disinfect the air before it reaches people inside the building.
There are a variety of different products that coordinate with HVAC systems. Germicidal UV fixtures can be mounted to coils or ducts.
Since the UV fixture is either outside the building, in ductwork, or in a secure maintenance area, the UV radiation should not be harmful to humans. Extreme caution and safety measures should be used for anyone who works around these UV fixtures.
While these products don't explicitly sanitize surfaces, they are helpful in providing a safer, cleaner environment.
The product below is an example of a fixture designed for industrial systems only.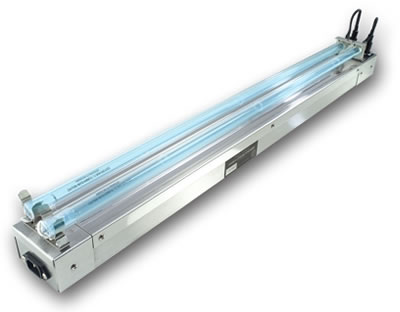 American Ultraviolet® HVAC Series
Germicidal UV HVAC fixtures are configured specifically for different systems. If you'd like more specifics on how you can use them, contact us for a free consultation.
Questions about UV applications
Whether you are on the frontlines of fighting COVID-19 or you are planning for how you're going to recover from the pandemic and ensure the safety of your customers and your employees, our team is here to help you sift through the options and find the right germicidal solution.
If you have questions, please do not hesitate to contact us for a free lighting consultation.